The Alton Distillery has reserved for its most loyal customers
a total of 21 Buckwheat Spirit barrels of 25 gallon each,
produced between 2013 and 2016.
| | | | | |
| --- | --- | --- | --- | --- |
| | | | | |
| | | | | |
| Guaranteed Bottles per Barrel | | | | |
| | | | | |
The General Profile
and Common Denominators
---
COLOR
Red spruce violin
AROMA
Engaging dry earth mingled with caramel and cocoa bean after the pour, in a moment the nose is awash in cereal grain, toasted marshmallow
PALATE
Gently succulently sweet, earthy, intensely grainy, and rich of vanilla before the explosion of spice with notes of rich fruit, lingering orange and oak
FINISH
Complex and long. Wood and warm spices combine
with dark Chocolate and orange with memories of a
summer thunderstorm.
The ambitions have gone beyond the simple idea of making and selling whiskey. The goal of our distiller was to be a creative revolutionary to the industry dictate.
We pursue the bigger purpose to create the most thought provoking spirits we can. We set course to be pioneer, provocateurs and change makers.
As we continue this path, we discover our mission, ensuring we use our action as a force for good.
New York
Buckwheat Spirit
Sour Mash:
80% Buckwheat
20% Malted Barley
100% Local Grains
State of the Art Double 250 gallons
Copper Pot Karl Still
Alton Distillery
2037 State Route 17B
Bethel, NY
820 feet Well of pristine
Catskill Water
Seasoned White American Oak charred Casks – In Temperature Controlled Rack houses on site of the Distillery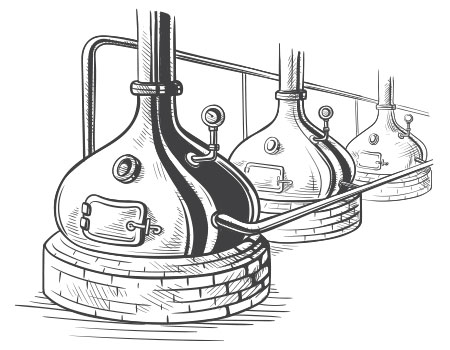 BOTTLE SIZE 750 mL
TTB COLA ID 22288001000093
ABV% 50 Suggested
BOTTLES PER CASE 6
Buckwheat a flowering plant in the knotweed family Polygonaceae cultivated for its grain-like seeds and as a cover crop.
The name "buckwheat" is used for several other species, such as Fagopyrum tataricum, a domesticated food plant raised in Asia.
Despite its name, buckwheat is not closely related to wheat. It is not a cereal, nor is it even a member of the grass family.
Buckwheat is related to sorrel, knotweed, and rhubarb, and is known as a pseudocereal because its seeds' culinary use is the same as cereals, owing to their high starch content. (Wikipedia)
So, buckwheat is almost a grain, it is a grain like.
Even if distilled exactly like a whiskey, aged in new American white oak barrels, respecting all the protocols, rules and regulations in force for the production of whiskey, it cannot be called whiskey.
When it comes to bread, the rules, perhaps because they are millenary, rye bread, corn bread, wheat bread and buckwheat bread stand in line like brothers even if their taste, character, color and price are different, bread has no prejudices.
So, we said to ourselves, this spirit will shine on its own.
The Alton suggests that interested parties contact
Master Whiskey Maker Marlene Thaler directly at
845-397-2002
for anything they would like to know about the special Old Casks Reserve program.